Cindy is a full member of IVTOM and teaches the technique "Mix".
What is IVTOM and the Mix voice?
IVTOM Mission Statement
The International Voice Teachers of Mix (IVTOM) endeavors to provide an opportunity for education and association to MIX voice teachers, who strive to teach a natural, unaffected, beautiful and healthy vocal production. We seek a return to pure bel canto singing (MIX) in all vocal styles.
See video demonstrations of MIX.
A message from Dean Kaelin, President of IVTOM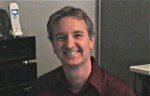 Dean Kaelin has recorded a video to welcome you to IVTOM and to introduce the concept of Mix singing. Click on his photograph to view his video message.
You may also read and print a copy of Dean Kaelin's message.